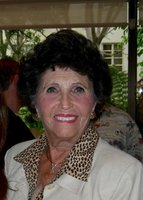 Vivian Guzofsky
Vivian Guzofsky was born in Chicago, Illinois on April 28, 1928. She moved to Boulder, Colorado to attend the University of Colorado, where she met her husband Harold Guzofsky (of blessed memory).
They raised their three children, Bonnie, Carol and Michael (of blessed memory) in Denver, where Vivian was involved in a number of charitable organizations including the Kemp Center and the Children's Diabetes Foundation. Vivian and Harold were avid golfers who spent their winters in Mazatlan, Mexico where Vivian became known as the "Mayor of Mazatlan", hosting holiday meals and organizing fundraisers throughout the community. She also volunteered in the colonials teaching arts and crafts to children, and aided many individuals and families in the area.
Vivian is survived by her children, Bonnie Guzofsky, Carol (Larry) Mizel and Cheryl Guzofsky; her grandchildren, Courtney Mizel, Cheston (Lara) Mizel, Brent Guzofsky, Nikki Guzofsky and Perri Guzofsky and six great-grandchildren, who all feel blessed to have had her in their lives.
Service, Friday, 10:00am, Feldman Mortuary Chapel; Interment Mount Nebo Memorial Park.